Read an interesting piece by Stuart Franklin in the Guardian this morning about the winner of the World Press Photograph of the Year award:
https://www.theguardian.com/commentisfree/2017/feb/13/world-press-photo-year-turkey-russian-assassination
I will not post a further copy of the winning photo here as I very much agree with Franklin.  This is certainly a very striking image, and I have nothing but admiration for the photographer, Burhan Ozbilici, who clearly got on with his job as calmly as he could notwithstanding the personal risk involved.  His photograph is worthy of an award in itself but not this top prize.
I have a good deal of time for Stuart Franklin (who took the iconic image of the "tank man" in Tiananmen Square) and read his book "The Documentary Impulse" (published by Phaeton in 2016) in great detail for a project I did as part of my last photography course last year.  If anyone has any serious interest in documentary photography I would strongly recommend this book.
For my money I would have preferred to see Jonathan Bachman's picture of the arrest of Keshia Evans win instead for its quiet humanity and dignity, for the way its shows how  a dignified protest can speak truth to power: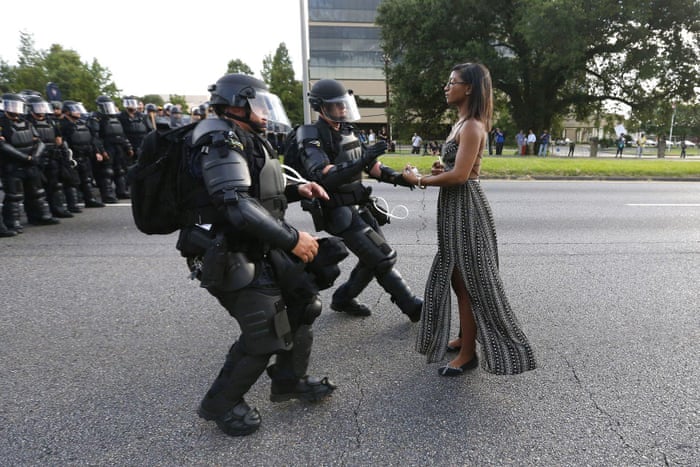 It says a lot when it takes two armoured policemen to arrest a passive protester, an exposed, vulnerable and slight young woman, who is in any event offering herself for arrest.  Unlike the winning photo I see this as a positive, and even uplifting image.